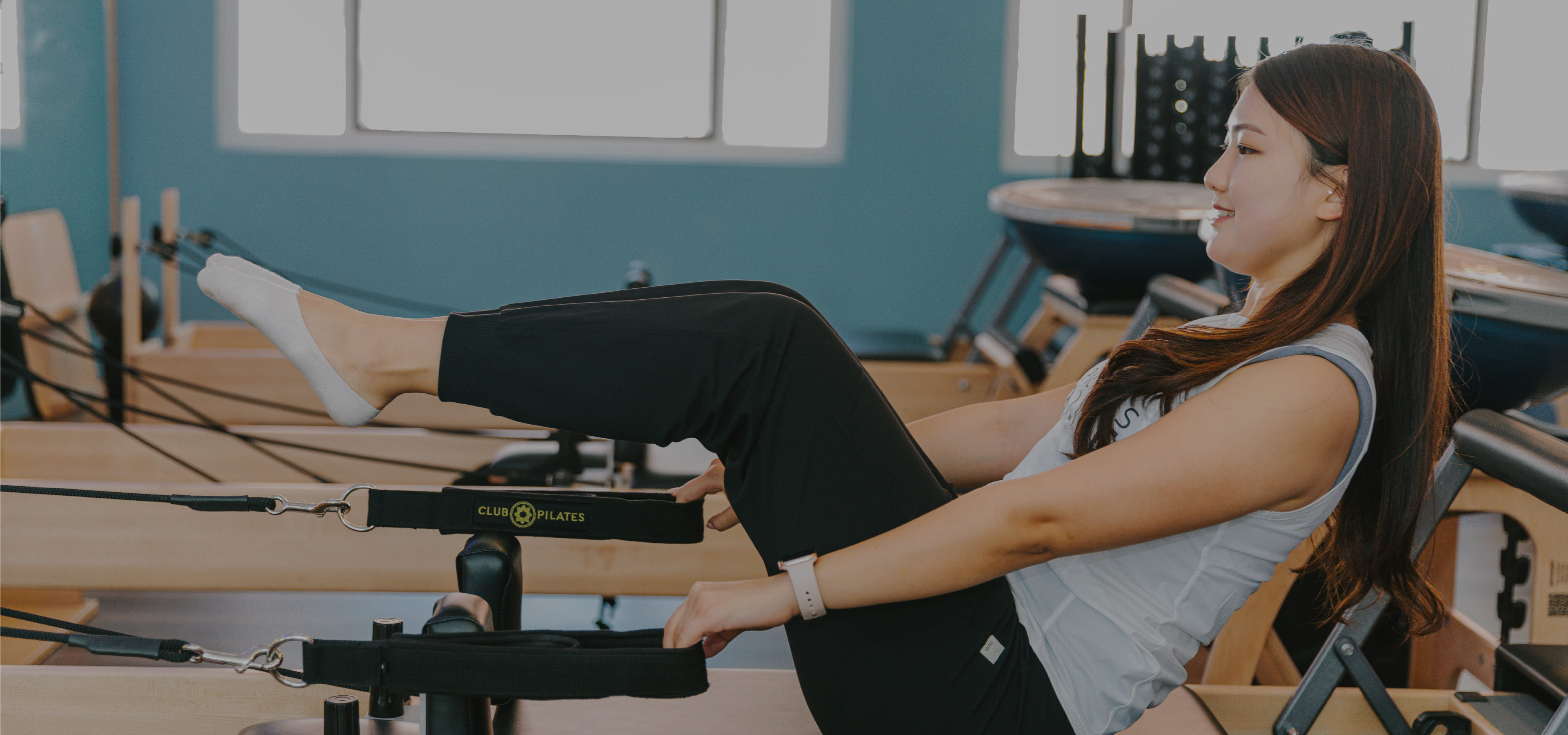 Are you experiencing
frequent back pains and poor posture?
Try Club Pilates,
the No.1 Studio in U.S.
Open 7 Days A Week
Located in:
Orchard Central | Katong |
Tanjong Pagar | Clarke Quay | Alexandra
Benefits of Pilates
01

Improve Posture And
Reduce Back Pain

02

Stress Reduction and
Better Sleep Quality

03

Helps With Weight Loss

05

Improve Core and Balance

06

Increase Muscle
Strength and Tone
No matter your age,
your fitness level or your goals,
your body needs Pilates.
Pricing
4 Credits -
Monthly Package

(Min. 3 months)

8 Credits -
Monthly Package

(Min. 3 months)

Unlimited
Monthly Package

(Min. 3 months)

1 credit -
First Timer Trial Class
Book Trial
Traveler's Package
Disclaimer:
This is only applicable to tourists or non-residents in Singapore.
Package has one month expiry. Non-transferrable, non-refundable,
non-pausable.
Please contact your preferred
studio via Whatsapp.
Class Types
Intro Class

A class to experience machine
Pilates and studio equipment.

Reformer Flow

Our signature contemporary
Reformer class will strengthen and lengthen your entire body.

Cardio Sculpt

High energy,
low-impact class using the Pilates Jumpboard.

Center + Balance

Re-center and balance your body with apparatus-assisted stretching which involves light movement and deep stretching.

Suspend

A Reformer-based workout with TRX® suspension training system,
allowing daily movements to be more efficient and precise.

Control

Sculpt your legs and glutes with
Control, a unique Pilates-based
workout while standing up
at the
Springboard.
Leveling
LEVEL1

Foundation

Elementary Level

This class is ideal for all fitness levels, is easily modified for those with physical limitations, and focuses on overall body awareness.

LEVEL1.5

Progression

Intermediate Level

Intermediate exercises and coordinated movements are introduced, along with progressions and balance and stability challenges to give you a more demanding workout.

*Club Pilates Level 1 FOUNDATIONS
experience required.

LEVEL2

Evolution

Intermediate to Advanced Level

This moderate to fast paced class incorporates quick transitions and will introduce you to more advanced exercises and use of the apparatus.

*Club Pilates Level 1.5 PROGRESSION experience and prior instructor approval required.

LEVEL2.5

Mastery

Advanced Level

Our most advanced class level challenges precision and coordination and is perfect for those who have mastered form and alignment.

*Requires at least 3 months experience in Club Pilates Level 2 EVOLUTION and prior instructor approval. Not recommended for those with physical limitations.
Book Trial
About Club Pilates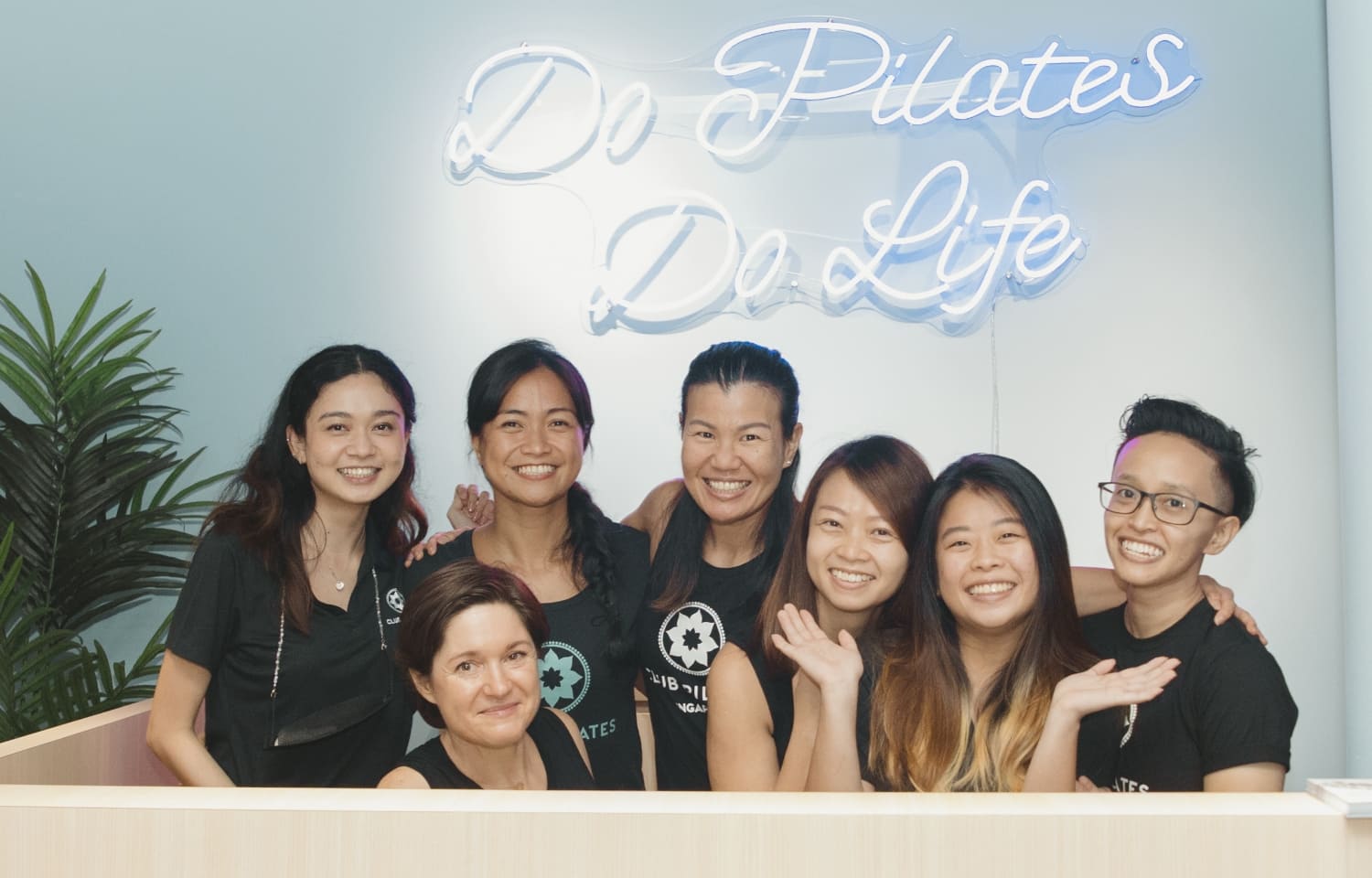 Our Story
Born in San Diego in 2007, Club
Pilates has expanded around the globe, bringing Pilates to hundreds of
thousands of people. We serve up over eight million workouts each year to our dedicated members…and we're just getting started.
Pure to Joseph Pilates' original
Reformer-based Contrology Method, but modernized with group practice and expanded
state-of-the-art equipment, Club Pilates offers high-quality,
life-changing training at a surprisingly affordable price.
We believe that Pilates is the path to a fuller, more satisfying physical
existence. We believe that being in control of your body helps you to be in control of your life.
And best of all, we believe that you can start anytime.
Why Club Pilates?
Professionally Planned Class
with Trained and
Certified Instructors

Intimate Class of
8-12 Attendees

Fully Equipped with
Top Grade Pilates Equipment
FAQ
General

Q

How much are the classes?

A

We offer monthly 4x and 8x credit memberships, unlimited monthly and unlimited annual memberships. All monthly memberships will require a minimum 3 months commitment period. You can view more about the membership details and prices here.

Q

What is the late arrival and wait list policy?

A

Late Arrival Any arrival after 10 minutes of the class will be refused entry. Other customers will be allowed to take your spot after 10 minutes of the class. Wait List Any available spots will be assigned to customers according to the wait list sequence more than 12 hours prior to the class. Within 12 hours before the class, any available spot will be notified via an email to customers on the wait list and you can book on a first-come-first-serve basis.

Q

What do I need to prepare for my first class?

A

Come dressed in comfortable workout attire, bring along your grip socks and water too! You will be required to sign a studio waiver form upon arrival.

Q

Which classes are recommended for beginners?

A

We recommend you to try the trial class to get an introduction first. Subsequently, you may attend all Level 1 classes to familiarize yourself with the exercises and equipments. We encourage all beginners to try at least 6-8 times of the Level 1 classes before moving on to the next level.

Q

Are there shower facilities at your studios?

A

We do not have shower facilities at our studios but rest assured, there are toilets available.

Q

How experienced are your instructors?

A

Our instructors are comprehensively trained and certified, from a range of disciplines and training backgrounds. They also undergo an intensive course with a Master Trainer from Club Pilates US as part of their induction process.

Q

Do you have any age restrictions?

A

Attendees must be at least 16 years old due to safety concerns.

Q

I am pregnant, can I still attend classes?

A

Congratulations on your pregnancy!For your safety and wellbeing, please do get your doctor's approval or clearance that you are able to attend classes. For mummies up to 13 weeks, you can attend all group classes.
For mummies between 13 - 16 weeks, you can attend reformer Level 1 classes or private classes only.
For mummies from 17 weeks onwards, you can attend private classes only.

Q

I just gave birth, can I attend group classes?

A

While we don't have any restrictions for post-partum mothers, we do advise you to get prior approval from your doctor before joining in any of the classes for your safety purposes.

Q

Is Club Pilates available on Classpass?

A

As we wish to keep our classes exclusive to our members only, bookings are not available on other platforms like Classpass.
Booking and
Cancellation of Classes

Q

Where can I see the schedule for the classes?

A

We are open 7 days a week, with classes available throughout the day! You may view the class schedule for each outlet here.

Q

When are classes available for booking?

A

Classes can be booked 1 week in advance.

Q

What is the cancellation policy for classes?

A

Please cancel at least 12 hours prior to the booked class. Any cancellations less than 12 hours before will result in the credit being forfeited for monthly and annual memberships. For unlimited memberships, there will be a cancellation fee of $15.
Packages

Q

Can I cancel, freeze or extend my package?

A

Cancellation of Package There will be a cancellation fee of $100, with a 30-day notice period required. This will only be charged if you would like to cancel within the lock-in period (first three months). Freezing of Package There will be a freeze fee of $15/month, with a 30-day notice period required. You are only allowed to freeze a maximum of 4 months per year. The freeze date will start on the billing date. Extension of Package We do not allow extension of packages. Do use your credits before the expiry date to prevent it from being forfeited. Please contact the respective studios for assistance on your package.

Q

Can I share my package with someone else?

A

Memberships are exclusive to the member and cannot be shared with others.

Q

Can I use my package at all studios?

A

Memberships are exclusive to the home studio and can only be used for classes at that studio. However, we also offer dual memberships at 40% off the second membership at the second studio.